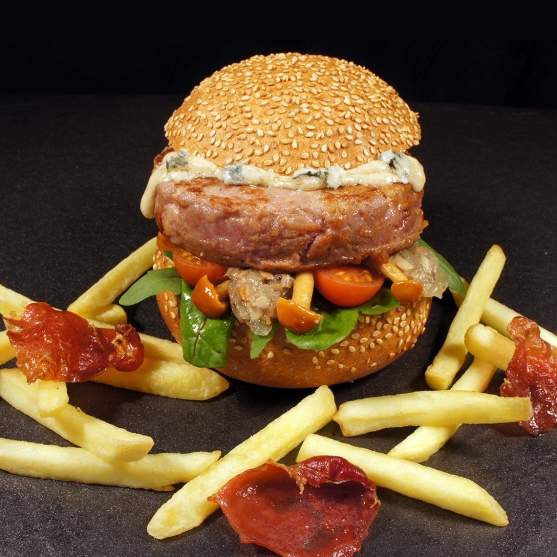 Beef burger with cabrales cheese and mushrooms
Ingredients
- Beef burger of 150 g (4 units.)
- Olive oil (60 ml)
- Onion (200 g)
- Garlic cloves (2 units.)
- Seasonal mushrooms 160 g + 180 g
- Sunflower oil (400 ml)
- Sour variety potatoes (800 g)
- Sliced Iberian ham (60 g)
- Burger bun (4 units.)
- Green leaves (40 g)
- Sweet gherkins (60 g)
- Cherry tomatoes (12 units.)
- Cabrales cheese sauce
- Salt
Method
Heat a pan with oil, add the chopped onion, cook for a few minutes, chop the garlic and add, cook for a few more minutes, add the chopped mushrooms (160 g), then cook until the liquid evaporates and the food is browned.
Wash and peel the potatoes and cut into sticks. Heat the sunflower oil to 140°C in a pan and fry until tender, raise the temperature to 190°C and fry until golden brown, then remove, place on kitchen paper and season. In the same oil, add the slices of ham and fry until crispy, then remove and place on kitchen paper.
Heat a pan, add oil and add the whole mushrooms (180 g), sauté until golden brown.
Heat a grooved grill pan, cover it with oil, and grill the burger on both sides.
Open the bun in half, add the leaves, sweet gherkins, sliced tomato, sautéed mushrooms, and the chopped onion and mushrooms, place the burger on top, heat the Cabrales sauce and cover the burger, add the bun top and serve with the potatoes and crispy ham.
____________________________________________________
Method - Cabrales Sauce
Ingredients:
- Albariño wine (150 ml)
- Liquid cream (250 ml)
- Cabrales cheese (80 g)
- Salt
Heat the Albariño wine in a saucepan, reduce by half, add the cream, add the cheese, then boil until reduced and you have a dense texture. Season to taste with salt and pepper.