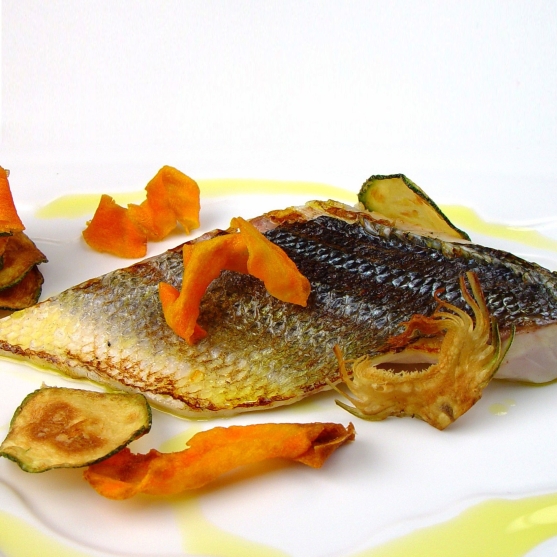 Bea bass with sweet potato, courgette and artichoke chips
Ingredients
- Sea bass, 180 g (4 units.)
- Olive oil (30 ml)
- Salt
- Ground white pepper
- Flor de sal sea salt
- Chips
Method
Brush the fish with oil, heat a pan and grill the fish on the skin side, then turn and grill on the meat side. Serve on the plate accompanied by the chips, drizzle with extra virgin olive oil, and season with the flor de sal.
__________________________________________________
Method - Sweet Potato, Courgette and Artichoke Chips
Ingredients:
- Courgette (40 g)
- Sweet potato (60 g)
- Artichoke (1 unit.)
- Olive oil (300 ml)
- Flour
- Salt
Thinly slice the sweet potato and fry in olive oil, then remove and dry on kitchen paper. Clean the artichokes of tough leaves, thinly slice and fry, then dry on kitchen paper. Thinly slice the courgette, cover in flour and fry. Season all the chips.