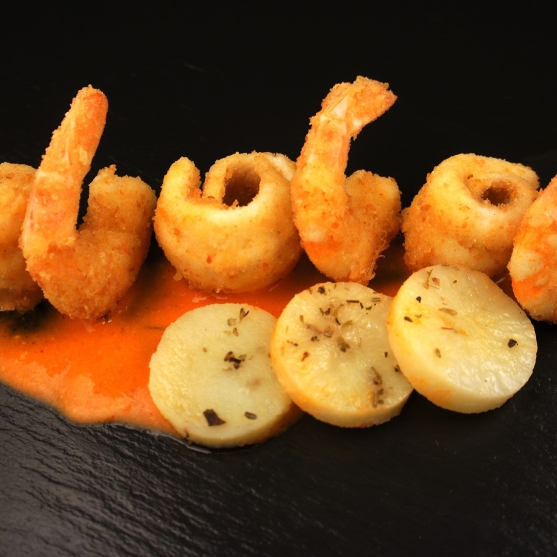 Battered sole and prawns with scented potatoes
Ingredients
- Sole, 400 g (3 pcs.)
- Austral prawns (12 pcs.)
- Flour (80 g)
- Eggs (2 pcs.)
- Breadcrumbs (100 g)
- Olive oil (400 ml)
- Salt
- Ground white pepper
- Ñora pepper and nuts sauce
- Confit potatoes
Method
Remove the fillets from the sole, roll them, then pierce with a toothpick to keep the shape. Peel the prawns. Dip the fish and prawns in the flour, egg and breadcrumbs, and fry in hot oil in batches. Heat the confit potatoes, drain and plate up, then add the sole and prawns over the sauce.
_________________________________________________
Method - Confit Potatoes
Ingredients:
- Potatoes (400 g)
- Virgin olive oil (200 g)
- Black pepper (1 teaspoon)
- Dried guindilla chilli (2 pcs.)
- Herbs de Provence (a pinch)
- Salt
Peel the potatoes, cut them into coin shapes with a cutting mould, then wash, drain and dry. Add salt, heat the oil with the spices. Submerge the potatoes and confit for about 15 minutes, until they're tender. Reserve in the oil.
Method - Ñora pepper and nuts sauce
Ingredients:
- Ripe tomato, (3 pcs.)
- Garlic (1 whole bulb)
- Onion, (1 pc.)
- Peeled and toasted hazelnuts (30 g)
- Almonds (20 g)
- Ñora or choricero pepper (1 pc.)
- White vinegar (20 ml)
- Olive oil (60 ml)
- Dry bread (1 slice)
- Salt
 Remove the ñora stem and soak for a few hours. Roast the tomatoes, onion and whole garlic bulb in the oven, on a tray lined with aluminium foil, and remove when well cooked, first the tomato, followed by the garlic, and finally the onion. Once cold, remove their skins and add to a blender.
Using a spoon, remove the pulp of the ñora or choricero pepper, add to the blender together with the rest of the ingredients, except for the oil, blend until fine, add the oil until emulsified, add a little water, if necessary, until you get your desired texture, then season to taste.