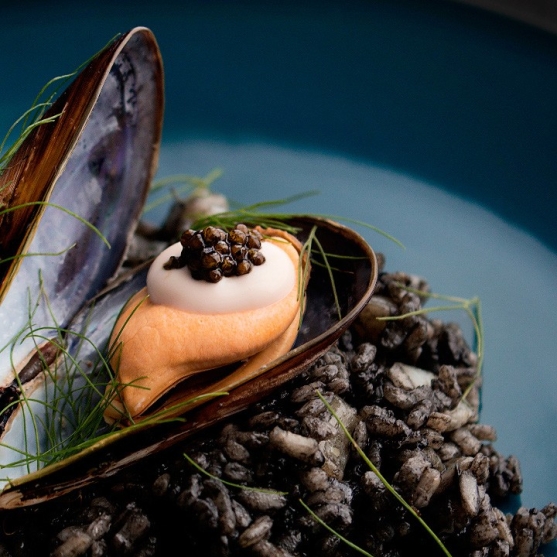 Black rice with alioli and caviar del tíbet
Ingredients
- Bomba rice or similar (400 g)
- Clean and dry cuttlefish or squid (500 g)
- Peeled tomatoes (2 pcs.)
- Onion (1 pc.)
- Garlic (2 pcs.)
- Homemade fish broth (1.5 litres)
- Tin of Caviar del Tíbet, 50 g (to taste)
- Saffron strands
- Squid ink
- Mussels
- Olive oil
- Salt
Method
 Ingredients for the aioli mayonnaise:
- Egg (1 pc.)
- Small garlic clean without the germs (1 pc.)
- Vegetable oil (200 ml approx.)
- Drizzle of olive oil
- Apple cider vinegar (1 tsp.)
- Salt
Method:
1. Prepare the aioli by adding the egg to the blender first, followed by the rest of the ingredients. Carefully beat from the bottom upwards to create a thick cream. Cover and reserve in the fridge.
2. Add a generous amount of olive oil to a large pan. Cut the cuttlefish into small squares and lightly fry. When golden, remove and set aside.
3. Add a little more oil if necessary and fry the finely chopped onion and garlic.
4. Add the chopped tomato, fry for a few more minutes, add the rice and ink, stir and add the hot broth, the cuttlefish and a few saffron strands and cook over a medium heat for 18 minutes.
5. Let the rice rest for 5 minutes while steaming the mussels.
6. Plate up the rice, then add the mussels, alioli and caviar to taste.