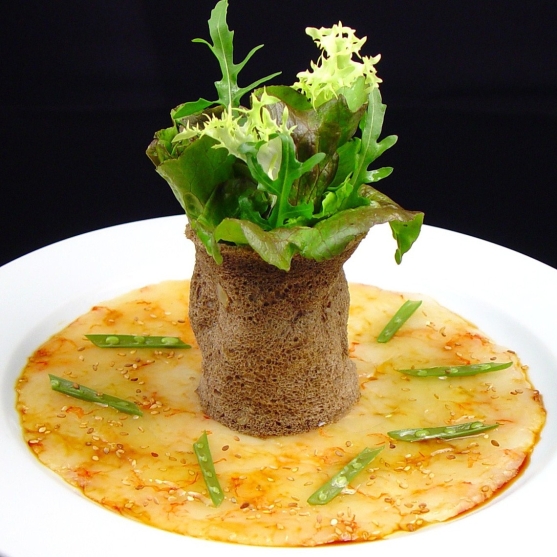 Asian-style marinated prawns with lettuce and sesame seeds
Ingredients
- Organic prawns (20 pcs.)
- Whole wheat sliced bread (1 pc.)
- Cooked green beans (40 g)
- Golden sesame seeds (10 g)
- Butter lettuce (1/4 pc.)
- Endive (1/6 pc.)
- Rocket (40 g)
- Maldon sea salt
- Asian dressing
Method
Peel the prawns and remove the intestines, place between 4 to 6 prawns, depending on their size, in cling film, crush them until they are thin and of a size similar to the dish on which they are to be served. If you have time, you can freeze them in advance to facilitate handling and conservation.
Cut very thin slices of bread and place them in a cylindrical mould. This can be any oven-safe container. They can also be dried at room temperature, but it will take longer. If using the oven, dry at a low temperature, about 100 °C.
Wash and select the salads and leaves.
Stir the Asian dressing and use it to cover the plate being used to serve the prawns, take the prawns out of the cling film when they're still frozen, arrange them to the shape of the dish and cover with more dressing, then leave for around 15 to 20 minutes to allows the squashed prawns to marinate.
Select the leaves and fill the bread moulds with them, arrange them in the centre of the plate and add more Asian dressing, or a classic vinaigrette if you prefer.
Add the cooked open green beans and golden sesame.
Add more Maldon salt to taste.
Method - Asian Dressing
Ingredients:
- Soy sauce (80 ml)
- Rice vinegar (40 ml)
- Sesame oil (20 ml)
- Olive oil (20 ml)
- Fresh ginger (60 g)
Peel and finely chop the ginger. Mix all the ingredients and leave them to mature for an hour, then strain to remove the ginger.