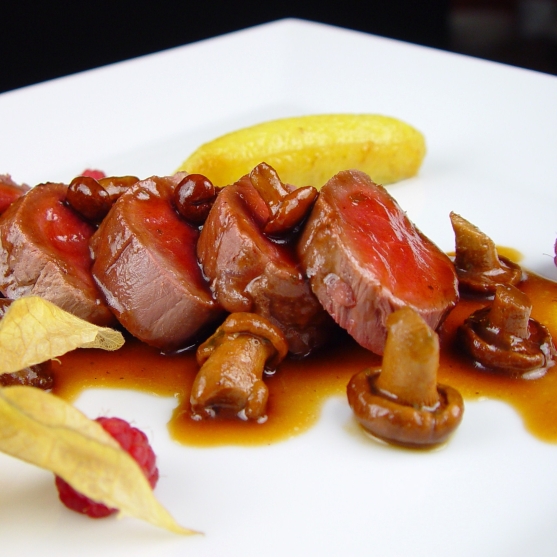 Beef fillet mignon with tropical fruits
Ingredients
- Mushroom sauce
- Clean beef fillet (800 g)
- Salt and ground black pepper
- Olive oil (30 ml)
- Mini bananas (4 pcs.)
- Butter (15 g)
- Gooseberries (4 pcs.)
Method
Cut the fillet into four portions, season with salt and pepper, then heat a pan and cook the meat on all sides. At the same time, heat the butter and add the peeled mini bananas, sautéing them until golden. Heat the mushroom sauce, cut the fillets into medallions and plate up. Garnish with the bananas and gooseberries, pour the sauce over the fillets and serve.
__________________________________
Method - Mushroom Sauce
 Ingredients:
- Butter (20 g)
- Virgin olive oil (20 ml)
- Shallots (80 g)
- Dried ceps (10 g)
- Red wine (200 ml)
- Brown sugar (20 g)
- Chicken broth (400 ml)
- Tinned mushrooms (160 g)
- Cream (40 ml)
- Cornflour
- Salt
Heat the butter and oil, add the cut shallots, sauté until golden, add the dried ceps and red wine, cook until the wine reduces by half, add the brown sugar and chicken broth, cook for a further 8 minutes over a low heat, then strain and reserve.
Sauté the mushrooms in oil, add the cream and the previous preparation, cook for a few minutes, then mix the sauce with the cornstarch and season.