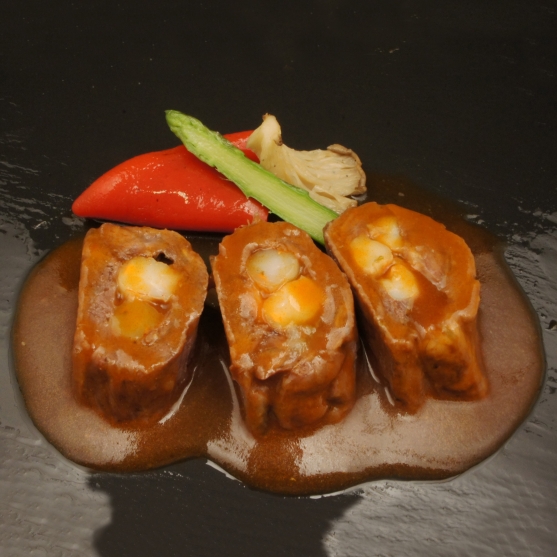 Beef cheeks stuffed with prawns
Ingredients
- Boneless beef cheeks (1.2 kg)
- Olive oil
- Onion (500 g)
- Carrot (250 g)
- Peeled garlic cloves (3 pcs.)
- Crushed ripe tomato (250 ml)
- Albariño wine (250 ml)
- Star anise (1 pc.)
- Golden apple (1 pc.)
- Lemon thyme (a few sprigs)
- Dark beef broth (approx. 1.8 litres)
- Red prawns (12 pcs.)
- Butter (30 g)
- Salt and white pepper
Method
Remove the nerves and meat fibre, season with salt and pepper, then heat the oil in a casserole and brown the meat on both sides. Remove the meat and then add the onion to the same casserole, sauté then add the carrot and garlic, cook for a few minutes and add the crushed tomato, then reduce the tomato sauce. Add the Albariño wine and reduce it by half, then add the star anise and the chopped apple. Cook for a few minutes and add the lemon thyme. Add the cheeks and cover with dark beef broth. Cook covered and over low heat for about 4 hours, add water if it goes dry.
Peel the prawns, remove the intestine, heat a pan, add oil and sauté, then season with salt and pepper and set aside on a plate. Remove the meat and, while warm, break it up a little on cling film, put in the sautéed prawns and make a roll with the cling film, then press and put it in the fridge to take shape. In a hot pan with butter, add the prawn heads, sauté briefly and add the cooking juice from the cheeks, boil for 15 minutes and strain the sauce, mashing all the food well. Boil the sauce and fine tune the salt and texture to taste.
Remove the cling film from the meat and cut it into medallions, place in the hot sauce and heat over a low temperature.
____________________________________________
Method - Garnish
Ingredients:
- Green asparagus (4 pcs.)
- Oyster mushrooms (120 g)
- Piquillo peppers (4 pcs.)
- Olive oil (30 ml)
- Salt and ground white pepper
Cut the asparagus and mushrooms, heat a pan and add the oil, then add the asparagus and sauté. Add a few tablespoons of water to finish cooking them well, add the oyster mushrooms and sauté, then season with salt and pepper and set aside. Heat the peppers and plate up the cheeks with the garnish and a generous amount of sauce.